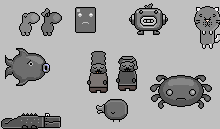 This game, Lamadilus, has been filed.
This means that the game will no longer be continued for a long time due to problems related to its development. It may be continued after some time, so that this template might be removed.
Lamadilus

Information
Released:

TBA

Play It:

TBA

Levels:

20

Game Type:

Main Game

Genre:

Platformer, Action

Websites:
Controls:

Arrow Keys

Prequel/Sequel:

Spin-Off: Seagum Jelly

Development time:

Began April 17th

Credits:
Lamadilus is an upcoming game. Like Panbus, it also takes place in China. The player controls a legless crocodile navigating through swamps to try and get its legs back.
Lamadilus has 20 levels.
The player is introduced to basics of the game, learning all the controls. A guide character will follow him.
The crocodile has to go into the wall by the stairs and collect coins, there is some water. A cameo of Cat Dropped is seen. It can be played at IJZM's website.
By pressing space while in the elevator, the crocodile will end up on the otherside of the elevator ontop of the wall.
The player is introduced to enemies and dynamite. The player has to burn a wall blocking it.
Wall Eyebubbles and Dripping Eyebubbles are introduced. There will be a coffin later.
The Crocodile destroyed the boss and finally got its real legs back then it went back to its house and got his beach stuff and went to the beach and there was a flood then it got lost at the sea but it saw a few pirate sponges and ate them then words came and it said To Be Continued....
Billboards
Edit
Level 1: Welcome to the Great Wall.
Level 1: Watch out for the hot water it can kill you!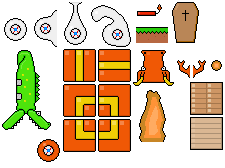 Level 1: Hello guest, welcome to the Great Wall of China. These Eyebubbles stole your legs. You need to get it back. You need to get in the wall and go to the sack of legs.
Level 1: Watch out for that water!
Level 2: I didn't know that the leg was fake! Sorry.
Level 2: Don't touch that Eyebubble. It will hurt you. Attack it by pressing the Space Bar. Down there that bar is charging. The higher it is the powerful it is. If it is orange it will overheat.
Level 2: If you touch the dynamite it will explode in 5 seconds. The dynamite makes holes that you can use to go through.
This is the first game to include content by RSK.
This game is Axiy's first game he suggested.
The name of the game was an idea from JuanJLF and it was the mix of the two words "crocodile" and "swamp" in latin.