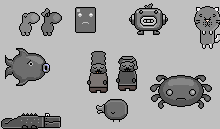 This game, Quack, has been filed.
This means that the game will no longer be continued for a long time due to problems related to its development. It may be continued after some time, so that this template might be removed.
Quack

Information
Released:

To be released

Play It:

To be released

Levels:

26

Game Type:

Level-based game

Genre:

Puzzle

Websites:
Controls:

Arrow keys: Move Crackle
Spacebar: Shoot

Credits:

Art
TNY
Programming
TBA
Music
Takeshi64
Random-storykeeper
Quack is a cancelled puzzle maze game.
The game is supposed to have 26 levels, which have all been finished building. Although, due to the lack of a programmer in the Blueflake staff, the game has been cancelled.
Level 1
Level 2
Level 3
 
Level 4
Level 5
Level 6
 
Level 7
Level 8
Level 9
 
Level 10
Level 11
Level 12
 
Level 13
Level 14
Level 15
 
Level 16
Level 17
Level 18
 
Level 19
Level 20
Level 21
 
Level 22
Level 23
Level 24
 
Level 25
Level 26
Spoiler

alert!
Crackle did grab all gummies again and saved the planet, but after he arrived home again Farmelanet finally exploded. This is the end of all the Quack franchise.
---
Hazards weren't all confirmed yet.